since I posted anything on Madeleine. BUT I was asked to contribute recipes & home tips to my cousin Brian Harahan, who is getting married in a few weeks. I thought I would share my entry with you all as well.
Love,
Catherine
Favorite Recipes:
EL GAZPACHO DE HOY "GAZPACHO TODAY" from My Table in Spain by Janet Mendel
This gazpacho recipe is one of my favorites, & I am proud to say that Janet Mendel herself subscribes to my newsletter. Just thinking about gazpacho for dinner while listening to Camaron during the dog days of summer is something I look forward to every year. 

Serves 6
4 oz (4 slices) stale bread, crusts removed
2 garlic cloves
2 lbs ripe tomatoes (about 5), seeded
2-inch square of green pepper (optional)
2-inch chunk peeled cucumber (optional)
1/4 tsp ground cumin
2 tsp salt
1/3 cup olive oil, preferably extra virgin
2 Tbs white wine vinegar (I say sherry vinegar!)
1/3 cup chopped green bell pepper (optional)
1/3 cup chopped onion (optional)
1/3 cup peeled, chopped cucumber (optional)
1/2 cup croutons or diced bread, toasted crisp (optional)
Break bread into big chunks & soak it in water to cover until it is softened, about 15 minutes. Squeeze out the water & place the bread in a blender (or, if you are using a hand-held blender, into a mixing bowl) with the garlic. Blend until the bread & garlic are smooth.
Add the tomatoes (it may be necessary to process the tomatoes in two batches) & the pieces of pepper & cucumber, if using, & puree. Add the cumin & salt. With the motor running, add the olive oil in a slow stream. As the oil is incorporated, the gazpacho will turn from tomato-juice red to a paler orange color. Blend in the vinegar & 1/2 cup water.
Place the gazpacho into a tureen, bowl, or pitcher & stir in 1 cup cold water. Chill until serving time.
Place each of the garnishes--chopped peppers, onion, cucumber, & croutons--in small bowls or on a relish dish & pass them when the gazpacho is served. This gazpacho also can be served, thinned with additional water, in tall glasses for sipping, without the garnishes.
JUNIPERITIVO Recipe adapted by William Grimes from Monzu, NYC, The NYT Country Weekend Cookbook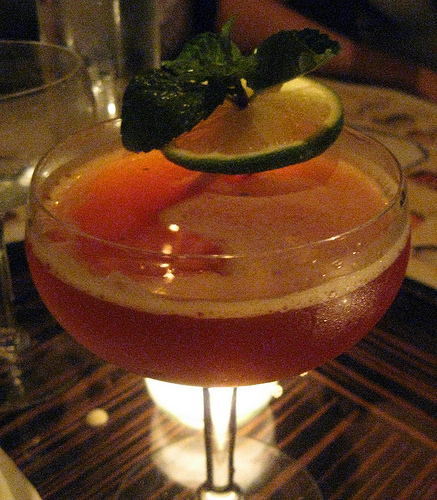 For the first ten months after my aneurysm, I wasn't allowed a drink until-- a physician miraculously cleared me. Since that fortuitous day, cocktails have been a gateway for my palate. Junipero is a distilled herbal gin made by San Francisco's Anchor Distilling Company. (Maker's of Anchor Steam Ale.) I'm anxious to see if we can find it here in the PNW.

4 large mint leaves
1/2 oz simple syrup*
1 1/2 oz Junipero, or other gin
1/2 oz lime juice
1/4 oz pomegranate syrup

In a mixing glass, using a spoon, crush 2 mint leaves in a simple syrup, & add gin, lime juice, & pomegranate syrup.

Pour into an ice-filled shaker. Shake well, & strain into a chilled cocktail glass. To garnish, float the 2 remaining mint leaves on the surface of the drink.

*Simple Syrup:
Boil 1 cup water & i cup sugar, stirring occasionally until sugar is dissolved & liquid is clear, about 5 minutes. Let cool before using. Store refrigerated for up to a week.
MASHED POTATOES WITH MANCHEGO & OLIVE OIL recipe by Jose Andres
Jose Andres is one of my favorite Spanish chefs & I've eyed this recipe ever since I saw it in Food & Wine's holiday issue a few years ago. By no means low fat, it does substitute olive oil for butter which might up the health factor just a *leetle* bit...
His tip: "Add the olive oil slowly to the potatoes because if you dump it in all at once, you'll get streaks of oil."

2 heads of garlic, top third of each cut off
1/4 cup Spanish extra-virgin olive oil, plus more for drizzling
6 pounds baking potatoes, peeled and cut into 2-inch chunks
Water
Salt
3 cups heavy cream, heated
1/2 pound young Manchego cheese, cut into 1/4-inch dice

Preheat the oven to 350°. Stand the garlic on a large sheet of heavy-duty foil. Drizzle with oil and wrap in the foil. Bake for about 1 hour, until the garlic is very soft. Squeeze the soft cloves from the skins into a small bowl and mash with a fork.


Meanwhile, bring the potatoes to a boil in a large pot of water. Salt the water and boil over moderately high heat until tender, about 20 minutes. Drain and return to the pot. Shake the pot over moderately high heat for 1 minute to dry the potatoes.


Mash the potatoes with a potato masher, then mash in half of the hot cream. Add the remaining cream and mash again. Stir in the Manchego to melt, then slowly stir in the mashed garlic and 3 tablespoons of the olive oil. Season with salt and transfer to a serving bowl. Drizzle with the remaining 1 tablespoon of olive oil and serve.

________________________________________________


GARDENING TIPS



Plant an herb garden.

Herbs are expensive to buy in the produce section at the grocery store, yet are so easy to grow, & essential to great meals. Herbs do well in containers if you're limited on gardening space, but you can also let them go crazy in your garden plot or even around the edges of your house. Herbs are essentially tasty weeds. Let them grow freely & bring your dishes alive with flavor.

Not every herb survives a harsh winter, & others, like basil, require a heated summer just to flourish for a few months. Heat doesn't happen often in the Pacific Northwest, but with some-what mild winters we manage to propagate herbs outside year-round. Here are three of the easiest herbs to grow & the ones we use most in cooking:

Thyme

Sprinkle this easy-going fragrant herb as a garnish on fresh pasta dishes and you'll spark up any day of the week. Sometimes a gourmet meal can be as easy as fresh pasta, a couple pats of butter tossed in with a few spoonfuls of pasta water, freshly-snipped leaves, & a little grated Romano.

"Thyme is a hardy perennial herb used both for it's culinary flavor and for it's health giving properties.  Thyme can withstand many climates (except extreme winter temperatures) and has even been known to grow in the Alps.  Thyme comes in several varieties, and tends to be a creeping ground shrub.  It's commonly planted as a border plant in an herb garden, or along retaining walls.  It can tolerate light traffic, so planting a low growing variety around the stepping stones of your walking path, makes for a lovely scented walk for passers-by.  Thyme's tiny fragrant flowers are a favorite for bees, so plant them in strategic places around your garden to attract these important pollinators!  As a culinary herb, it's commonly used for flavoring meat dishes, sausages, soups and stuffing.  Thyme makes a wonderful plant for container gardening! 
Thyme can grow as a perennial in most climates.  If you have extremely harsh winters, this herb will only grow outside as an annual.   (If that's the case for you, consider potting it and taking in for the winter.) 
Thyme requires little care… once it's established, you should only need to water it during dry spells."
Rosemary
We use rosemary from everything from threading kebabs on the stems, smoking up a paella, & flavoring polenta. Here's what the experts have to say.

"Rosemary is one of those wonderful herbs that makes a beautiful ornamental plant as well as a welcome culinary seasoning. Its Latin name, Rosmarinus officinalis, means "dew of the sea" and rosemary is most closely associated with the cooking of the Mediterranean area. However you don't need perfect sunshine, sea mist or even a never ending summer to successfully grow rosemary. In fact, more rosemary plants suffer from too much attention than from too little.
Starting a Rosemary Plant
You will make things far easier on yourself if you start with a nursery grown plant. Rosemary can take some time to fill in as a plant, so expect to pay more for a mature plant than for a small rosemary start.
Rosemary is usually propagated by cuttings. Seeds can be difficult to germinate and often don't grow true to their parent. It's much faster to start with a cutting and you will be sure of what type of plant you will get. It's possible to root rosemary in a glass of water, but a bit more effort will give more dependable results.
Snip about a 2 inch cutting from the soft, new growth of an established plant.

 

Remove the leaves from the bottom inch and dip that tip into a rooting hormone. Rooting hormones can be found in any garden center.

 

Carefully place the dipped end into a container of dampened, sterile seed starting mix. Choose a mix that says it is well draining, like something containing peat moss with vermiculite or perlite.

 

Place the container in a warm spot with indirect sunlight.

 

Mist the cuttings daily and make sure the soil does not dry out.

 

In about 2-3 weeks, test for root growth by very gently tugging on the cuttings.

 

Once your cuttings have roots, transplant into individual pots about 3-4 inches in diameter.

 

Pinch off the very top of the cutting to encourage it to develop branches.

 

Begin caring for your cutting as a rosemary plant.
Bringing Rosemary Indoors
Where the winter temperatures dip below 30 degrees F., rosemary plants will have to spend the winter indoors. In this case, it's easier to grow your rosemary in a container all year. Since rosemary likes it on the dry side, terra cotta pots are an especially good choice. Just be sure it doesn't bake and completely dry out while outdoors during the summer.
Bring the potted rosemary inside once the temperature inches into the 30s."
Chives:
Our chives come back every year & provide an instant garnish or addition of flavor to soups & salads. I love the garlic variety best.
Chives are probably the easiest herbs to grow in the garden.
They can be added to just about any meal you would normally add onions to, and they're very good for you!
"Chives are the smallest of the onion family and there are a fair few types to choose from.
I've grown 'garlic' chives for years in the garden, and they are really useful, especially if you've run out of garlic.


You can eat every part of the chive plant. The edible flowers add colour to the salad bowl or other garnish, the grass-like leaves can be cut up and added to cooked potatoes, salads, sauces and even sandwiches, and the bulb can be used as a mild onion.
Although the flower stalk is edible, once the flower has been produced, there is very little taste or nutrients left in the stalk. Discard the flower stalks, and crumble the flower heads into your salad.
Growing chives: positioning
Chives like sun but do like a little shade during long hot summers. They are fairly good at tolerating drought conditions, but are happiest in moist well-drained soil.
Place chive plants in different parts of the garden, so you've always got something to pick and eat!
Sowing and Planting:
Chives do very well from seed. Plant a few seeds in a pot very early in the year and keep warm and watered until the seedlings are large enough to plant outside.
Plant out in well dug soil, preferably with some organic compost mixed in. You won't need to feed chives once they're in the ground, unless your ground is particularly poor, in which case you should give the chive plants a monthly feed.
Keep weed-free and watered until well established.
Growing chives in containers is also possible! Keep a pot in the kitchen. Remember to water and the plant will see you right through the season. When the flowers start to die back, cut the plant down to about 2-3 inches high and the chives will grow again."